The King's Daughter and the Ghost Judge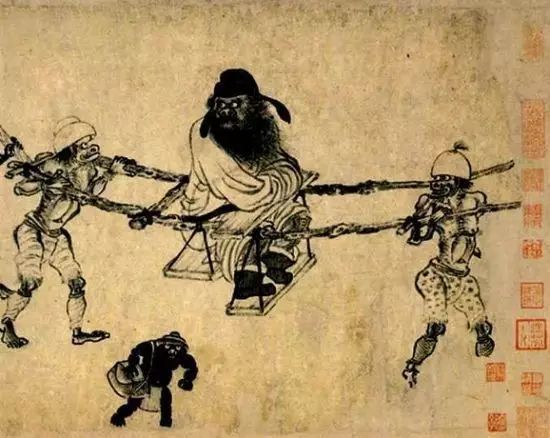 In the second year of the Dali period, Magistrate Li Zuoshi of Shanyin fell ill with a serious illness. After several days, his condition improved slightly, and he traveled from Kuaiji to Longqiu. His cousin, Magistrate Li Shu, was serving as the county magistrate in Longqiu, and he invited Li Zuoshi to stay at the county office for a few days.
One night, Li Zuoshi was talking with his guest, Li Ju, by candlelight when suddenly twenty or so men dressed in red robes and carrying weapons appeared in the corridor. Li Zuoshi asked them who they were, and they replied, "We are ghosts. The King has appointed you as a judge, and we have been sent to escort you. We are here to serve your orders."
Li Zuoshi said, "I am still in mourning, and it would be improper for me to accept such an appointment. Besides, how would your King know of me?"
The ghosts replied, "Magistrate Dou Kan of Wuyi County has recommended you."
Li Zuoshi asked, "But I don't even know him. How could he recommend me?"
The ghosts replied, "The King has already given his orders, and they cannot be changed."
Soon after, Magistrate Dou Kan arrived. He greeted Li Zuoshi with great courtesy and respect, and he said, "The King is looking for a son-in-law, and he wants the son-in-law to also oversee the affairs of the nobility. That is why I recommended you. It is also your destiny."
Li Zuoshi still refused to accept the appointment.
Before long, the King's daughter arrived. Her carriage was like a cloud, and she exuded a fragrant scent. Li Zuoshi quickly descended the steps to greet her. When he saw the King's daughter, she was so beautiful and noble that he was immediately attracted to her.
Magistrate Dou Kan said to Li Zuoshi, "Everyone must die, but few people have such good fortune. Don't refuse anymore, or you will make the King angry."
Li Zuoshi knew that he could not escape his fate.
After a while, the King's daughter and Magistrate Dou Kan disappeared. Two hundred or so attendants remained, and they respectfully escorted Li Zuoshi to his new position as a judge.
The next day, Li Shu and his brother Li Zao came to visit Li Zuoshi. Li Zuoshi told them what had happened, and then he said, "Since I am not going to live much longer, please give me some good food."
Li Shu prepared a feast for Li Zuoshi. Li Zuoshi was eating a bowl of wild chicken soup when suddenly the bowl disappeared. He shouted to his attendants, "Why did you take away my soup?" He then fell face down on the table and died.
Li Zuoshi's coffin was loaded onto a boat and transported back to his hometown of Kuaiji. On the night the boat arrived, one of his wife's maids was suddenly possessed by Li Zuoshi's spirit. The spirit said, "The King's daughter has married someone else. Now it is time for me to send my wife back home." The voice was very sad.
Original text:
李佐時
山陰縣尉李佐時者,以大曆二年遇勞,病數十日中愈,自會稽至龍丘。會宗人述為令,佐時止令廳數日。夕復與客李舉,明燈而坐。忽見衣緋紫等二十人,悉秉戎器,趨謁庭下。佐時問何人,答曰:鬼兵也。大王用君為判官,特奉命迎候,以充驅使。佐時曰:己在哀制,為是非禮。且王何以得知有我?答云:是武義縣令竇堪舉君。佐時云:堪不相知,何故見舉?答云:恩命已行,難以辭絕。須臾堪至,禮謁,蘊籍如平人,坐謂佐時曰:王求一子婿,兼令取甲族,所以奉舉,亦由緣業使然。佐時固辭不果。須臾王女亦至,芬香芳馥,車騎雲合。佐時下階迎拜,見女容姿服御,心頗悅之。堪謂佐時曰:人誰不死,如君蓋稀。無宜數辭,以致王怒。佐時知終不免。久之,王女與堪去,留將從二百餘人,祗承判官。翌日,述並弟造,同詣佐時。佐時且說始末,云:既以不活,為求一頓食。述為致盛饌。佐時食雉臛,忽云:不見碗。呵左右:何以收羹?仆於食案,便卒。其妻鄭氏在會稽,喪船至之夕,婢忽作佐時靈語云:王女已別嫁,但遣我送妻還。言甚悽愴也。(出《廣異記》)
🎨 龔開《中山出遊圖》