The Crown Prince of Crows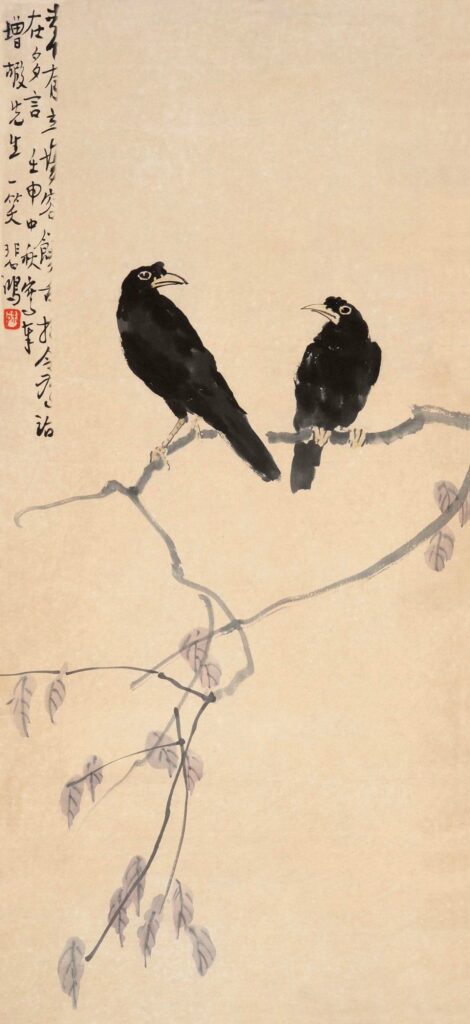 Wu, whose livelihood was on the fields along the Dan River(丹徒江), arrived at the river island in the winter of the eighteenth year of the Qianlong era(乾隆十八年).
Upon reaching the island, he began collecting rent and laid out the harvested rice in the open. A flock of crows gathered to feast on the rice, and Wu, grabbing a clump of soil, chased them away. He struck one crow mid-flight, and it fell to the ground mute for a moment before recovering and flying off.
When Wu returned home after dinner, he suddenly heard the sound of wind and rain. Opening the door to look outside, he found the sky pitch black, and heavy rain poured down. He hurried inside, only to discover that his clothes were entirely white, stained with crow droppings.
Wu recalled the saying that being fouled by bird droppings was inauspicious. Was this an omen of impending death? From then on, he suffered from a mysterious illness characterized by twitching limbs and difficulty moving. He couldn't rise or lie down easily, and he couldn't feed himself. He needed assistance with eating and drinking, enduring great suffering. However, his mind remained clear. Wu wondered if the crows had cursed him for chasing them away and decided to appeal to the gods. Yet, despite these thoughts, he couldn't bring himself to write a formal complaint.
One night, as he lay in bed, Wu dreamt of writing a complaint on yellow paper and planning to submit it to the City God's Temple(城隍廟). Suddenly, two black clouds descended from the sky, transforming into a young man dressed in dark clothing. Another person followed, holding a black umbrella.
The young man bowed to Wu and said, 'The one you struck before was not a crow but the Crown Prince of Crows(烏頭太子). Because you offended him, you now suffer from this illness. If you accuse him again, the consequences will be even more severe. It's better to offer wine and food as an apology to the Crown Prince; it will ensure your safety.'
Wu, however, refused and angrily declared. 'He ate my rice and unjustly cursed me. I will report him!'
Shortly after, two more black clouds descended from the sky, turning into young men with black hats and cloaks. One of them asked Wu, 'Do you want to accuse the Crown Prince of Crows? What charges do you plan to bring?'
Wu showed them the complaint.
The young man responded, 'You mistakenly struck the Crown Prince, causing your illness. Now that you understand the error, I will intercede for you with the Crown Prince. You will be restored to your former state without the need for accusations.'
He took the complaint and flew away.
Wu abruptly woke up. From that moment, his ailment gradually improved, and two months later, he was completely healed.
Original text of 《烏頭太子》 in the 22nd Chapter of 《子不語》:
吳某,世以丹徒江上洲田為業。乾隆十八年冬初,至洲收租,以所收稻曬於場上。有烏鴉群集食稻,吳取土塊逐之,隨手中一烏,啞然墜地,復奮起飛去。吳歸莊房,晚餐後,忽聞風雨聲,啟戶仰視,天色深黑,大雨如注,急入室,衣色全白,皆鴉糞矣。吳因憶人言禽糞著身者不吉,我今被污,殆將死乎?自此遂病雀爪風,手足抽掣,不便起臥,又不能持物飲食,需人扶喂,不堪其苦。然心甚明晰。因自念鴉食我稻,我逐之,有何過?乃敢祟我,將控之於神。屢動此念,實未能寫狀也。
一日盡寢,夢以黃紙自寫一狀,將投於城隍廟。忽空中有黑雲二片飛下,至地化青衣人向吳曰:「君前所擊者,非鴉也,乃烏頭太子也。君因得罪於彼,故患此恙。若再往告彼,罪益重矣!不如具酒食請罪於太子,可保全也。」吳不聽,且怒曰:「彼食我稻,又妄祟我,我必告之!」
須臾,空中又下黑雲二片,化作少年,玄色冠巾,一人持黑傘隨其後,向吳拱手曰:「君欲控烏頭太子耶?控詞何擬?」吳持與觀之。少年曰:「君前擊中太子,故有此疾,今知其誤也,某為君緩頰於太子,可保君如舊,何須控告耶?」因取控詞懷之飛去。吳遽前往奪,忽然驚醒。自此所患漸愈,兩月後平復如常。